SCREENER CABLE is a series of roller shutters with an extremely light and modern character. The structure of the system is based on a cassette and cable guides leading the fabric in an aesthetic way. Slightly visible guides further enhance the visual effect.
SCREENER GUIDES is a proven and appreciated solution. High reliability and work culture are due to the rollers guiding the fabric inside the aluminum profiles.
Screener products are vertical, weather-resistant shades, and at the same time a proven and recognized sun protection solution. They are the highest shutter quality, flame retardant and distinguished by ISO, CE, BVB certificates. Screener is synonymous with high reliability and work culture. Modern design, care for the environment and ecology are the foundations on which the project of Screener systems was based. As a result, products were created that, depending on the fabric used, keep up to 80-90% of the heat outside, thus lowering the temperature inside the building. It allows limit excessive heating of rooms and control the amount of light entering the room.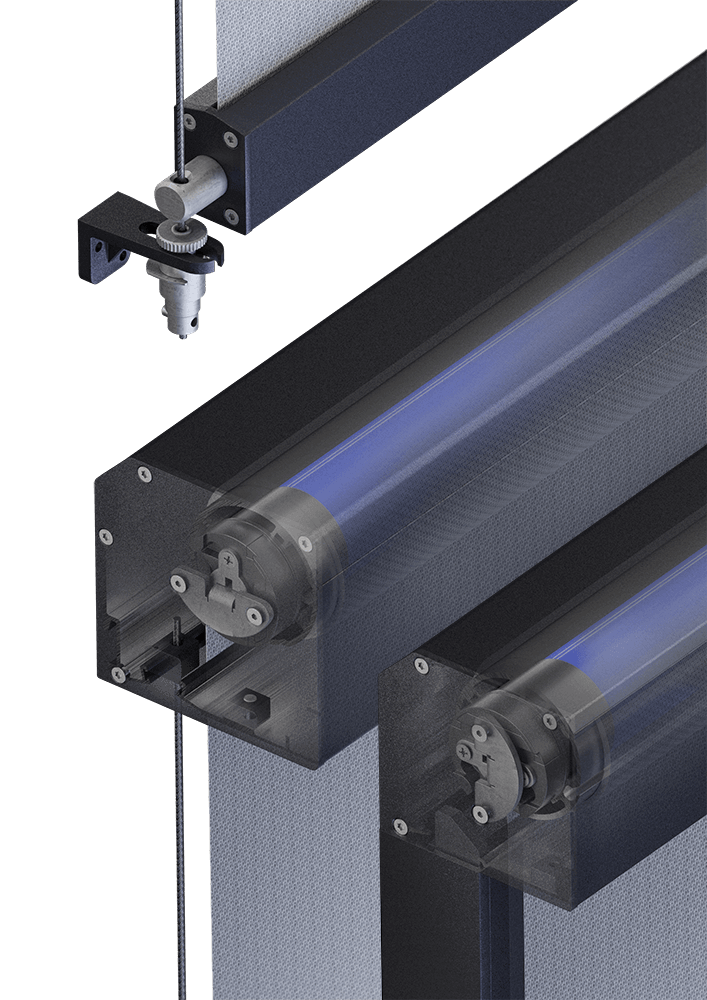 The bottom bar of the Screener system can be guided behind with stainless steel cables fastened with a tensioner to the wall or floor. In the variant with an aluminum guide, it is guided by rollers in the channel of the side guide. In the variant with an aluminum guide, it is guided by rollers in the channel of the side guide.
By choosing the Screener system, we can be sure of a stable, 100% refined construction, meeting individual customer requirements. The well-thought-out construction of the cassette, made of the highest quality extruded aluminum, can be opened from the bottom - which further emphasizes the ease of installation and operation of the shutter.
The process of powder coating of profiles ensures resistance of the structure to corrosion and unfavorable sunlight. SystemScreener is available in all colors of the RAL palette.
The convenient and user-friendly operation of the Screener system will be ensured by the electric drive, adapted to the variable operating temperature in the range from -40 to +60 degrees, with the possibility of using weather sensors.
Due to the use of modern technologies, the fabrics are characterized by resistance to weather conditions, mechanical strength and flame retardance. Thanks to the wide range of available colors, the Zipner system perfectly fits the character of the facade, emphasizing its individual design.